Thornapple River
Environmental Issues
ENVIRONMENTAL ADVOCACY THROUGH CITIZEN STEWARDSHIP
NOTICE: Bodily contact advisories for Thornapple River
The Barry/Eaton Health Department is currently working on funding to establish regular E. coli testing for the Thornapple River and tributaries in Eaton and Barry counties.
Many residents and visitors to the Thornapple
enjoy FULL BODILY CONTACT, (i.e. swimming and tubing).
It is a good idea to do more frequent testing
for E. coli on the river for this reason.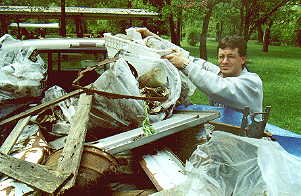 We collected six pick-up truck loads of trash and toxic waste on the May 20, 2000 River Cleanup. We even collected television sets from the bank and floodplain of the Thornapple River in Barry County. 75 volunteers turned out for this event.


I am an environmental educator, and live on the beautiful Thornapple River in Kent County. I have a love for watershed education. This site has information about environmental issues local to the Thornapple River Watershed, in Kent, Ionia, Barry, Allegan, and Eaton counties, in Michigan, USA.
Last updated April, 2002.
For other updates of this site information, see www.thornappleriver.com
WATERSHED EXPO WAS SEPTEMBER 30, 1999!
Supported by a grant from the Grand Rapids Foundation.
VIRTUAL CANOE TRIP!
June 5, 1999 was our annual river cleanup Canoe Trip!
See all the junque we collected.
The Thornapple River Cleanup
The river was in flood stage, so the TRWG and Thornapple River Water Quality Action Committee conducted a bank cleanup, with operations centered in Tyden Park, Hastings, Barry County.
THORNAPPLE RIVER ENVIRONMENTAL SURVEY.

Do you love the Thornapple River?
Have you or your organization been involved in environmental projects in the watershed?
Do you have concerns about the health of the Thornapple River?
If so, please contribute to our survey, supported by a grant from the Frey Foundation.
Thanks!
GRAND RIVER EXPEDITION 2000
July 15-27, over 150 people paddled the entire Grand River!


ENVIRONMENTAL HOTPAGE LINKS


ON THIS SITE:
OFF THIS SITE:

YOUR MICHIGAN REPRESENTATIVES
YOUR MICHIGAN SENATORS
Never underestimate the power of the written word. Write to them. Your opinion can make a difference.


This is the environmental issues site of Riverhouse, watershed ecology and online field guides. Check back frequently for weekly updates.
Email me at thornapple@hotmail.com

The Thornapple River Watershed Group
P.O. Box 341
Caledonia, Michigan 49316